The sighs of delight coming from my table were starting to get embarrassing, but it was hardly our fault. Plate after plate of pure gastronomic hedonism appeared; it was a progression of dishes that made up the most completely delicious and perfectly executed tasting menu I have ever had the pleasure of trying. I wouldn't have changed one thing -- except maybe the volume of our moans of approval. When you dine at El Ermitaño, a restaurant in the town of Benavente in the province of Zamora (Castilla y León), you are made to feel so welcome, valued and at home, you end up forgetting that you are surrounded by tables with other diners.
On hand to make your experience even more agreeable is chef Pedro Mario Pérez, who, together with his brother Óscar -- also a chef -- runs this family business, which was opened by their parents in 1989 in a historic stone hermitage from the 18th century on the outskirts of town. Tall and handsome with a large dose of charm, Pedro Mario spends a good portion of the evening weaving adroitly through the tables, greeting friends, advising diners and essentially making sure that everyone has a good time and a great dining experience. He admonishes me for taking notes -- "Relax, enjoy your meal, just have fun" -- and you can tell he means it. Not only have these two chefs earned a variety of accolades, including a Michelin star, they are also tireless spokesmen for their beloved Castilla y León, frequently appearing at culinary conferences. Pedro Mario even hosts a TV show to promote the region's gastronomic bounty. During my autumn visit, these efforts were focused on the enormous and wonderful variety of wild mushrooms found here. To give you an idea of their importance to the area, Castilla y León boasts sales of approximately 17,000 tons of wild mushrooms a year -- worth some 65 million euros.
To promote the gastronomic uses of these exquisite products, and as this region's delegate in Euro-Toques -- Europe's most important chef's association, with more than 3,500 members in 18 countries -- Pedro Mario organizes the annual celebration known as BuscaSetas. It is an initiative now in its 11th year, in which more than 200 regional restaurants offer special five-course (minimum) tasting menus featuring wild mushrooms in every dish. Lasting for approximately 10 days every November, it is the best way to get to taste these elusive and seasonal products.
This was the excuse that brought me to El Ermitaño on this fine fall day, stopping along the way at the impeccably walled town of Urueña and the beautiful castle in Medina del Campo. About a two-and-a-half-hour drive from Madrid, it is well worth the trip, if only to admire the fall foliage along the way and the meanderings of the Duero River. Upon sitting down in the welcoming dining room of this classically styled restaurant and glancing at the regular menu, I knew I could not possibly leave without trying some of its other specialties as well. Luckily, the chef was happy to oblige, and in no time we were immersed in a tasting menu that reflected both El Ermitaño's most traditional dishes, as well as some more innovative combinations. All were interwoven with exquisite regionally protected products such as D.O.P. Reineta apples, P.G.I. Cecina de León (cured beef), D.O.P. Queso Zamorano (cheese from Zamora) and seasonal game, as well as a huge and delicious variety of wild mushrooms from the nearby forests.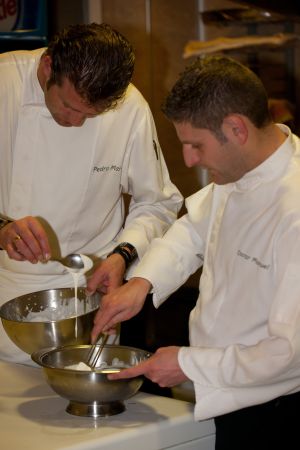 First came a tasty amuse-bouche of goat's cheese cream with Reineta apple, followed by delicate cecina rolls with foie gras and quince paste, both accompanied by a sparkling Palacio de Bornos, Verdejo wine from D.O. Rueda. Then the festival of flavors began in earnest, with a parade of dishes so delicious and surprisingly constructed, that I am unable to pick my favorite. One that comes close, however, was the creamy smoked cod soup with sautéed Boletus edulis (ceps), lamb sweetbreads -- more delicately flavored and tender than I could ever have imagined -- and garlic shoots nesting a perfectly cooked scallop. The mixture of flavors from land and sea worked wonderfully together, and the richness of the smoky broth was set off with the refreshing Mil Cien pale ale, brewed in nearby Bierzo.
Next came a free-range egg on a bed of creamy leeks topped with three types of wild mushroom, thin slices of black truffle and flavorful mounds of shaved marinated tongue, served with a chilled glass of carbonic maceration red wine from Bodegas Fariña in Toro.
Black monkfish might seem like an unusual choice in Zamora, but the piece set before us had been cooked at very low temperature and had a melt-in-your-mouth texture that had us sighing all over again. Served with potato foam and a black olive, sun-dried tomato and green onion chutney, this deceptively simple fish was accompanied by a crisp José Pariente Sauvignon Blanc, one of my favorite Rueda wines. The next dish was a wonderfully gamey, beautiful hunk of venison loin that had been rubbed with wild mushroom salt, cooked over wood smoke, and served with Boletus risotto, Zamorano cheese and the venison's sweet gravy. The flavor was so earthy, rich and warm that it seemed to personify fall itself. Sommelier Marcelino Calvo perfectly complemented its flavors with Liberalia Cero, a bold, barrel-fermented Tinto de Toro wine with deceptively complex aromas.
Past the lovingly restored stone chapel and then to a rooftop deck -- perfect for a drink in the summer under the amply starry sky
Despite the spectacle we had been making, the chefs persevered, sending out a plate of cured Zamorano cheese that had been grated, cubed and sliced into a variety of formats, making a game out of illustrating the important role of oxygenation and density in the flavor of cheese. Then a bowl of Reineta apple compote appeared, complete with pear sorbet, licorice and spiced black tea, followed by one of the most romantic, perfect and delicious desserts I have ever tried. Christened "The Autumn Forest," it featured an incredible Boletus ice cream surrounded by a chestnut cream with white chocolate, all on a bed of ground almonds and other nuts, wild mushroom powder and chestnut liqueur toffee.
After the meal, stuffed and grinning, we followed Pedro Mario on a tour of this massive establishment, which is divided into different themed rooms that he and Óscar created in honor of their parents, as well as other private dining areas -- all immaculately cozy, tidy and welcoming. We continued to the lovingly restored stone chapel, past a three-story atrium that is destined to become a small hotel; then, to a rooftop deck overlooking extensive gardens -- perfect for a drink in the summer under the amply starry sky.
Next it was through the enormous and sparkling kitchens, complete with a huge wood-burning oven for classic dishes such as roasted lamb; and finally into the auxiliary kitchens used for catering events that are held in the even bigger downstairs halls.
Having worked off a bite or two of the dinner, we retreated for drinks upstairs to the buhardilla, or attic, that the brothers have outfitted as a bar, complete with comfy sofas and a pool table, and they occasionally use for concerts -- during which, I have been told, the pair have been known to sing.
I cannot help wondering why anyone living in the approximately 20,000-person town of Benavente, on the road north to León and then Galicia, would ever go anywhere else for an evening out. But alas, we are not so lucky, and the next morning we reluctantly turned our car south, just as I was picturing the Sunday lunch crowd piling into El Ermitaño for another unforgettable meal.
Restaurante El Ermitaño. Ctra Benavente-León km 1,200, Benavente, Zamora. Tel: 980 632 213. www.elermitano.com