Faced with continuing warnings by the acting government about the ills that will befall Spain if the next executive fails to include the Popular Party (PP), other parties are telling the conservatives to stop their campaign of fear.
The Socialists (PSOE), the anti-austerity group Podemos, the pro-market Ciudadanos and the Basque Nationalist Party (PNV) have all spoken out against claims that an alternative governing alliance will dry up foreign investment and mark a return of terrorist violence by Basque group ETA.
"Stop all the vileness," said the Socialist spokesman in Congress, Antonio Hernando.
"The terrorist organization has been liquidated, and this type of statement makes it look like some people yearn for the previous situation"
Aitor Esteban, PNV spokesman
The PP's de facto campaign against an alternative bloc comes after Socialist secretary general Pedro Sánchez was tasked to try to form a government following inconclusive elections on December 20.
Although the PP received the most votes, it fell short of an absolute majority, and winning candidate Mariano Rajoy recently declined to bid for reinstatement due to lack of congressional support.
The acting prime minister is hoping that Sánchez will fail to build a strong enough alliance of his own, and be ultimately forced into a grand coalition with the PP.
In the meantime, Rajoy's team has been putting out the word that if the PP is left out of office, the economy and national security will suffer.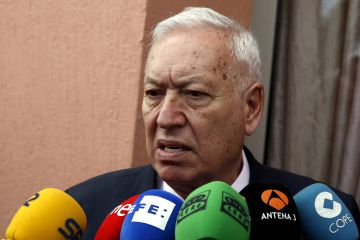 Specifically, Spain's commitment to the fight against terrorism will decline if a leftist alliance takes over: "ETA is awaiting that kind of government like a godsend," said Interior Minister Jorge Fernández Díaz in a recent interview.
Foreign Minister José Manuel García Margallo, speaking in Rome on Tuesday, added that a coalition between Sánchez and Pablo Iglesias of Podemos would hurt Spain's commitment against Jihadism.
And Economy Minister Luis de Guindos noted that "if Podemos joins the government or there is a government supported by Podemos, there would be uncertainty in the same markets where we have to raise a lot of funds."
Finally, Industry Minister José Manuel Soria noted that investors would not place "a single euro in Spain" out of fears of seeing a Greek-like crisis in Spain, as Podemos once defined itself a a sister party to Syriza.
In response, the Socialist Party has demanded public explanations from these ministers. César Luena, the Socialist leader's top aide, has told the PP to "keep itself in check" and asked Mariano Rajoy to put his ministers in their place.
Smaller parties complain
Other parties have joined in the complaints. Podemos number two official Íñigo Errejón on Wednesday criticized using terrorism as a political tool.
"Some issues, such as terrorism, are too serious to try to use them as an electoral weapon," he said.
The PNV spokesman, Aitor Esteban, was equally critical. "The terrorist organization has been liquidated, and this type of statement makes it look like some people are yearning for the previous situation," he said.
Ciudadanos, which is trying to mediate between the PP and PSOE to get a government up and running, reminded the conservatives that "it is foolish and somewhat disloyal to Spain to keep sending out apocalyptic messages, even if they're about future scenarios, to foreign leaders and to our European partners," in the words of congressional spokesman Juan Carlos Girauta.
English version by Susana Urra.
13 interviews in three weeks
A.D./F.M.
Several members of Rajoy's acting government have been effectively campaigning against the Socialists' ongoing bid to build an alternative governing coalition that would keep the PP out of office.
Since January 21, various ministers and state secretaries have been interviewed on 12 occasions by the state broadcaster, while another interview was aired by the regional television station Telemadrid.
Eight ministers and two state secretaries are among the interviewees who warned about a leftist coalition with the anti-austerity Podemos.